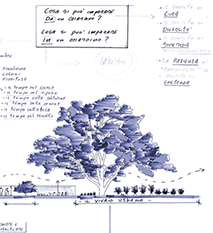 Coccapani Planetary Garden. A transgenerational, common, possible learning space
Abstract
https://doi.org/10.14198/UOU.2021.1.08
Gilles Cléments taught us to look at the garden like a planet. Insects, birds, plants, trees, oxygen, water co-exist in a garden in synergy. And who takes care of the garden? Planetary gardeners. This metaphor becomes the heart of the winning project of the Next Landmark 2020 international contest announced by the Iris Group Foundation, which translates into a very light intervention that respects the existing structure but it add value through the insertion of a few elements: the urban edge, at the entrance, is enhanced with a new green façade; the parterre is designed as a playground. From the access, the new driveway holds a colored insert (also to facilitate disabilities) that guides the internal paths; the "green" area expands. It is defined by a large interactive ring. The ideal lines that connect the trees protect the areas and suggest their uses with slight changes of surfaces and materials, always natural. The equipment are inserted between small shrubs, child friendly, and the canopies become roofs for the classrooms. How can the garden of a kindergarten become a beautiful common space for everyone to live in? The project tries to respond to the possible needs of users, also opening up to the city: for parents who wait. It would be nice to sit and chat among plants and flowers. A good place for teachers; for the neighbourhood of all ages; for children, the roots of society, to train them to become the planetary gardeners of the future.
Refbacks
There are currently no refbacks.
Copyright (c) 2021 Bruna Sigillo

This work is licensed under a
Creative Commons Attribution 4.0 International License
.