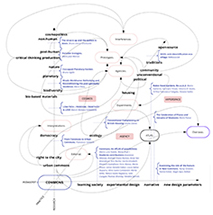 An introduction: the need of a space for experimentation
Abstract
https://doi.org/10.14198/UOU.2021.1.02
The UOU scientific journal has been designed as a space to host reflection on topics linked to contemporary debates in Architecture that are at the center of the discourse on the education of future architects, made possible by the opportunities that have emerged from the experience of exchange between the European Universities on the question of the Internationalization of Teaching Architecture in a time of pandemic. In this sense, the research is a tool to reinforce the education, and the education acts as a testing tool and space for experimentation. The reflection on the notion of commons- included in this first issue- from now on will be enriched by the experience of pushing the limits of time and space and rethinking the notion of values in an innovative and unprejudiced way. For the reader of this Journal, the notion of Commons translated in our urban (and digital) environments, is to be conceived more as collective production of resources and spaces in  general - material or immaterial - rather than with the resources themselves. This opens a reflection on the process of spatial organization in the relations between production, ownership and access to these resources, with an open eye on the effect of the Pandemic.
References
Erskine, R. Democratic Architecture, the Univeral and Useful Art, in: RSA Journal, September 1982, London.
Lefebrve, H. Le Droit à la Ville, Points, Paris 1968.
Encore Hereux, Infinite Places (Lieux Infinis) - Constructing Buildings Or Places?, Publisher Editions B42, 2018.
Corner, J. The Agency of Mapping. Speculations, Critiques and Inventions, 2011.
Koolhaas, R. AMO, Harvard GSD, Elements of Architecture, Tashen, 2018.
Byarke Ingels Group, Yes is more. An Archicomic on Architectural Evolution, Tashen, 2018.
Barthes, R. Le Degré zéro de l'écriture suivi de Nouveaux essais critiques, Editions du Seuil, Paris 1977.
Alexander, C. The timeless way of building, New York, Oxford University Press, 1979
Refbacks
Copyright (c) 2021 Maria Luna Nobile

This work is licensed under a
Creative Commons Attribution 4.0 International License
.