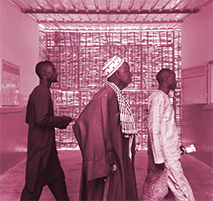 H2OS, anti-desertification eco-village in Senegal. An open-source, autonomous and sustainable prototype
Abstract
https://doi.org/10.14198/UOU.2021.1.12
The H2OS architectural and technological project is conceived and developed by TAMassociati.  It is an open-source pilot project, replicable, adaptable and perfectible elsewhere. It is the result of an international collaboration, born from the grass roots and inspired by Sunugal – an association of Senegalese immigrants in Italy – which has won increasing support. It is an experiment in co-development promoted by the Circolo Sunugal (Senegalese Migrant Association) in Venice, developed by Onlus Musoco (Venice) in collaboration with the NGO USE (Union pour Solidarité et l'Entraide) in Dakar.  A non-invasive but participatory design, which will become a bulwark and symbol of rights, such as access to water, food, the possibility of living in the place where they were born and moving away voluntarily, not from necessity.
Refbacks
There are currently no refbacks.
Copyright (c) 2021 TAMassociati

This work is licensed under a
Creative Commons Attribution 4.0 International License
.