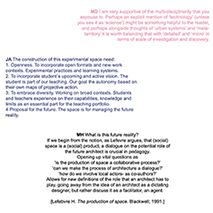 Conversation on a common manifesto
Abstract
https://doi.org/10.14198/UOU.2021.1.04
The contribution has been generted by a reading of the proposal of a common Manifesto "Circus Island". A conversation within the members of the editorial board, Mike Devereux and Maria Hadjisoteriou on the future of education and practice in architecture enriched the discussion starting from the reflections initially shared by Joaquín Alvado within the Editorial Team.
It is more and more evident that we are facing new possibilities in the of way of conceiving architecture, overcoming the boundaries of the disciplines and learning from the specificity of our cities and cultural values where the discipline of architecture needs to recapture its political role.
Refbacks
There are currently no refbacks.
Copyright (c) 2021 Mike Devereux, Joaquin Alvado Bañón, Maria Hadjisoteriou

This work is licensed under a
Creative Commons Attribution 4.0 International License
.