A Critical Reading on Spatial Narrative in Abstract Comics
Abstract
This study is a critical reading on the spatial narrative of abstract comics. The form of representation, which is defined as an abstract comic, is a narrative series that creates a reaction in the audience with the forms and techniques it uses. The aim of the study, considering the communication between the spectator and the representation; is to emphasize the potential that, emancipated the spectator and make the representational form open to sensations. In order for the spectator to communicate with the representation, the represented space must have traces that will make the subject's experience and temporality visible.The situation that is thought to be missing in traditional architectural representation productions; The experience that the space offers to the subject does not have a counterpart in representation.The act of "experiencing" is subject to time; Therefore, the visibility of temporality in representation will open up gaps that will include the spectator in the representation.Abstract comics method, which makes the concept of time legible with the possibilities of representation and has the potential as a communication tool; It has been evaluated as a form of representation that will make the spatial experience visible.The fact that the abstract comic book representations examined are 'abstract' transforms the form of representation into a field of experience for the spectator, providing a setting for sensations. On the other hand, the readability of time provides a participatory communication environment in which the spectator imagines what happens between the panels (singular units of sequential productions) and what might happen outside the panels.This study examines the communication that spatial narrative establishes with its audience through productions defined as abstract sequential art. It is valuable in that it underlines the visibility of experience in a representation that emerges with the concepts of time and sensation, and opens the topic of temporality in architectural representation to discussion.


Key words: architectural representation, abstract comic, spatial experience, time and space, the emancipated spectator

 
Downloads
Download data is not yet available.
References
Work Cited
APPEL, Rosaire. (2016, November 24). Dısturbances. site Rappel. Retrieved February 18, 2022, from https://rosaireappel.blogspot.com/2018/11/disturbances.html
AVCI, Haydar Ozan. Duyumsamayı ortaya çıkaran bir karşılaşma olarak mimari temsil. 2016. PhD Thesis. Fen Bilimleri Enstitüsü.
BABCOCK, Jay. "Untranslated" by Rosaire Appel Arthur Magazine, 22 November 2010, https://arthurmag.com/2010/11/22/untranslated-by-rosaire-appel/. Accessed 17 February 2022.
BACHELARD, Gaston. Mekanın Poetikası (A. Tümertekin, Trans.). Ithaki Yayinlari, 2018.
JACKSON, Donald. Cognitive Comics: A Constructivist Approach to Sequential Art. the State University of New York College at Buffalo Office of Undergraduate Research, 2009, https://cognitivecomics.webs.com/CognitiveComics_2ndEdition.pdf.
MCCLOUD, Scott. Understanding Comics. Northampton, MA: Kitchen Sink, 1993.
RANCİERE, Jacques. Özgürleşen seyirci. Translated by E. Burak Şaman, Metis, 2010.
TABULO, Kym. "Abstract sequential art." Journal of Graphic Novels and Comics, no. 5-1, 2013, pp. 29-41, https://www.tandfonline.com/doi/full/10.1080/21504857.2013.803994.
TANJU, Bülent. Mekân-zaman ve mimarlıklar. A. Şentürer, Ş. Ural, Ö. Berber, & F. Uz içinde, Zaman-Mekan, 2008, 168-185.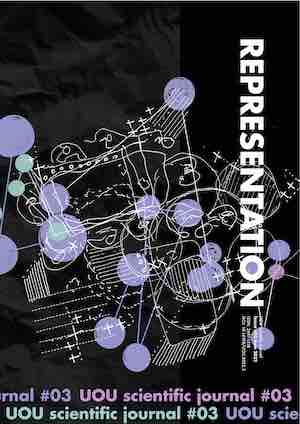 Downloads
Statistics
License
The authors keep their rights upon their work, although they transfer, in a non-exclusive way, the rights of exploitation (reproduction, publication, distribution, public dissemination and presentation) to the Journal. The authors are, therefore, free to enter additional, separate contracts for the non-exclusive distribution of the version of the work published in the Journal (for instance, by hosting in an institutional repository or publication in a book), provided credit is given that the work was initially published in this journal. The works are published under a Creative Commons Attribution 4.0 (CC BY 4.0) license.