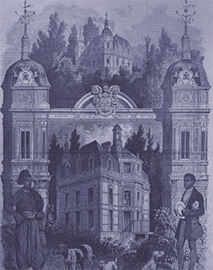 The Château de Monte Cristo: a celebration of life by Alexandre Dumas
Abstract
At the height of his fame and in possession of a large fortune from the growing success of his writings, Alexandre Dumas wants to build the house of his dreams on an idyllic plot of land on the outskirts of Paris. The result is a place that reflects his way of life: extravagant and excessive.
It is a folie made up of two buildings with evocative names: the "Château de Monte Cristo" and the "Château d'If". The first is a Renaissance mansion, where he lives with his family, friends and lovers, and where he organises sumptuous parties for all kinds of guests. The second is a small Gothic pavilion dedicated to work, where he used to lock himself away for twelve hours a day to write one of the most extensive literary works known to mankind. Both of them are two facets of Dumas's personality that find a balanced relationship of reciprocity: that of the vivid and that of the indefatigable worker. 
The architecture of the Château de Monte Cristo is intimately linked to the vision of reality provided by literature. The space is designed to intensify the experiences that take place in it and thus provide the material Dumas needs to bring his characters to life and create his limitless literary universe.  
At a time marked by the restrictions linked to the COVID-19 pandemic, the development of this type of architecture would allow its users to modify their "rhythm of life", to recover the time for leisure and social interaction lost during periods of intense work and to create a pattern that facilitates the personal fulfilment of each user, recalling the motive behind the creation of the Château de Monte Cristo: a celebration of life.
References
SIGAUX, Gilbert. Château de Monte-Cristo (préface du tome III du Comte de Monte-Cristo). Lausanne: Editions Rencontre, 1969
SCHOPP, Claude. Alexandre Dumas: Le génie de la vie. Paris: Editions Mazarine, 1985. ISBN 2-86374-204-3
ZIMMERMANN, Daniel, Alexandre Dumas Le Grand. Paris: Editions Phébus, 2002. ISBN 2-85940-776-6.
DUMAS, Alexandre. Les Trois Mousquetaires. Baudry, 1844.
BALZAC, Honoré. Lettre à Mme. Hanska. 1847.
DUMAS, Alexandre. De Paris à Cadix. Garnier frères, 1847-1848.
MAROIS, André. Les Trois Dumas. Hachette 1957, p.229.
DUMAS, Alexandre. Le Grand Dictionnaire de cuisine. Henri Veyrier,1873.
Refbacks
There are currently no refbacks.
Copyright (c) 2021 Marcos Belmar Rodríguez

This work is licensed under a
Creative Commons Attribution 4.0 International License
.