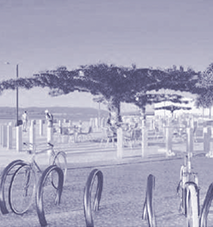 Games and Follies at Urban Scale
Abstract
The urban knowledge is mandatory in the career of Architecture. However, the subjects to understand the evolution of cities, their planning, design and governance, have greater complexity, especially the ones regarding technical issues, linked with the Sustainable Development Goals, as mobility, energy, economy and climate change. To solve this gap, different authors explained that a ludic approach can be useful for university lessons and even to improve the professional practices. This paper comments 2 examples of academic projects in Portuguese universities, with the common scope of urban design solutions as follies connected to the regional environment. Despite of the specific complexity, they both prove that these flexible tools, even do not prevent the use of traditional methodologies, in the learning processes of architectural education, can be especially relevant for the next generations, in a context of digital university training.
References
AZEVEDO, Sebastião. Um breve ensaio sobre educação superior na era do digital. Foco, conceitos e terminologia. 2021. Available at: https://www.apesp.pt/eventos/
CHIPPERFIELD, David (2016). Visión estratégica Fundación RIA. Rede de Innovación Arousa. Available at: http://www3.arquitecturaviva.com/Vision-estrategica_Fundacion-RIA_ESP.pdf
GARCÍA FUYEO, Susana. Reordenación y revitalización del frente marítimo del casco urbano de Bueu. Universidade Portucalense, 2021.
LERNER, Jaime. Acupuntura Urbana. Rio de Janeiro: Editora Record, 2003.
NEUMAN, Michael, Wild ZONNEVELD. The resurgence of regional design. In European Planning Studies, 2018, Vol. 26, Issue 7, pp. 1297-1311.
SECCHI, Bernardo. Prima lezione di urbanística. Roma: Gius, Laterza & Figli, 2000.
SELLARI, Virginia. Adressing Porosity, Cascais. Universidade Lusófona de Humanidades e Tecnologias, 2016.
SOUSA, Micael. "Modding modern board games for e-learning: a collaborative planning exercise about deindustrialization", 4th International Conference of the Portuguese Society for Engineering Education (CISPEE), 2021, pp. 1-8.
TAPIA, Ivan. Escape Map. Barcelona: Editorial Planeta, SA, 2020.
TSCHUMI, Bernard. Tschumi Parc de la Villete. London: Artifice Press, 2014.
Refbacks
There are currently no refbacks.
Copyright (c) 2021 Rui Florentino

This work is licensed under a
Creative Commons Attribution 4.0 International License
.