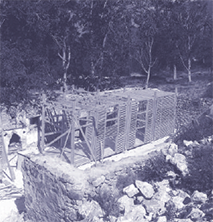 Designing and Building Folies as a Pedagogical Approach in Architectural Design Education
Abstract
Architectural education has its own unique character in-between rational and creative thinking. Within this wide perspective, learning by doing becomes important so as to cover different aspects of this education. At MEF University Faculty of Arts Design and Architecture (FADA), we we've created a unique program called Design-Build Studio (DBS) in order to push creating and doing beyond the boundaries of architectural design studios at universities. In this essay, I would like to focus on follies that we have been designing since 2015 in our DBS program as a pedagogical approach in architectural design education. Follies are pregnant points that can give birth to various forms and functions. Their open structure allows a collective design process with the participation of tutors, students, users, locals, municipalities, and NGOs. Through DBS project our students get a real design experience in a real place with real people, discover the difficulties of this process, improve their communication skills and comprehend the power of design to be used as a tool to improve the lives of everyone. As a result, we believe that designing and creating follie-like structures is critical in architectural design education.
References
AMRINE, Frederick. "The Metamorphosis of the Scientist" in Goethe's Way of Science: Phenomenology of Nature, edited by David Seamon and Arthur Zajonc, State University of New York Press, 1998.
ECO, Umberto.The Open Work, translated by Anna Cancogni, Harvard University Press, Cambridge, Massachusetts, 1989.
GANNON, Todd, GUNZELMAN, Laurie A. Bernard Tschumi / Zenith de Rouen: Source Books in Architecture 3, Princeton Architectural Press, 2003.
INCEOGLU, Arda, SEZGIN, Ahmet. "Design-Build Studio (DBS)" in FADA HANGAR 1 - Mef University Faculty of Arts, Design and Architecture 2014- 2018, edited by Burcu Serdar Köknar, Eda Yeyman, MEF University, Istanbul, 2018.
Refbacks
There are currently no refbacks.
Copyright (c) 2021 Ozan Avci

This work is licensed under a
Creative Commons Attribution 4.0 International License
.