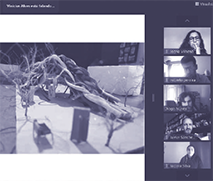 The return of the Follies From Traditional to Digital
Abstract
The French word folie stands for delight and pleasure, and therefore fun and happiness. First built in the late 16th and early 17th centuries, follies were buildings constructed purely for aesthetic pleasure, with a notion of nonsense, i.e., with a lack of good sense or foresight, resulting in often extravagant pieces of architecture with no particular function.
These architectural features could be found in gardens and in the wider landscape; towers, temples, sham castles, pyramids, grottoes, obelisques or mock ruins of classical buildings, seemingly randomly abandoned, were symbolic statements of constructions not easily understood, sometimes with a practical value as landmarks, conversations places, commemorative of a person or event, as lending interest to a view, or as simple amusement places, often offering a sensorial experience.
References
ARCHER, B. J. & VIDLER, A., Follies: architecture for the late-twentieth-century landscape, New York, Rizzoli, 1983, 9-13.
BARTON, Stuart. Monumental Follies: An Exposition on the Eccentric Edifices of Britain. Worthing: Lyle Publications, 1972.
CASSON, Hugh. Follies. National Benzole Books. London: Chatto and Windus, 1963.
CURTIS, S. (2010). Space, Place and Mental Health. Routledge. https://doi.org/10.4324/9781315610160
GWYN, Headley; WIM, Meulenkamp. Follies. A National Trust Guide. London: Jonathan Cape,1986.
GWYN, Headley; WIM, Meulenkamp. Follies Grottoes & Garden Buildings. London: Aurum Press, London, 1999.
GWYN, Headley; WIM, Meulenkamp. The English Folly: The Edifice Complex. London: Historic England, 2020
LANGLEY, Batty and T. LANGLEY, 1742. Ancient architecture, restored and improved by a great variety of grand and usefull designs, entirely new, in the Gothick mode, for the ornamenting of buildings and gardens: exceeding everything thats extant: exquisitely engraved on LXIV large quarto copper-plates and printed on superfine royal paper. London: s.n.
LEFEBVRE, Henri. Toward an Architecture of Enjoyment Edited. Łukasz Stanek (ed.) Minneapolis: Minnesota University Press, 2014
PEVSNER, N., The Buildings of England: Yorkshire, the West Riding (2nd ed), Harmondsworth, 1967, pp. 39–42
PEVSNER Originally published in AR April 1951, republished online in August 201: https://www.architectural-review.com/essays/building-with-wit-nikolaus-pevsner-on-sir-edwin-lutyens
TSCHUMI, Bernard, 1996. Architecture and Disjunction. Cambridge, Massachusetts: MIT Press.
TUAN, Yi-Fu, 2011. Space and place: the perspective of experience. Minneapolis: University of Minnesota Press. ISBN 978-8166-3877-2.
VIDLER, Anthony. "History of the Folly," in Follies: Architecture for the Late-Twentieth-Century Landscape, B.J. Archer and Anthony Vidler, eds. (Rizzoli, 1983), p.10-13.
Refbacks
There are currently no refbacks.
Copyright (c) 2021 Sofia Aleixo

This work is licensed under a
Creative Commons Attribution 4.0 International License
.