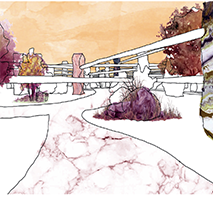 Matter on Lines – Marble
Abstract
Competition Research: Matter on Lines – Marble
CONTENT / What it is relevant on Architecture talking about objects is the matter. Matter as a physical substance that create atmospheres, relations and light. The proposal for the workshop is to create matter with lines in order to design a "Material City".
As a second attempt for this workshop, using the definition of Marble, we are going to create matter with a pattern of lines and, going beyond, to design one "Marble City". For this purpose, we will work together with MIRO.
AIMS / To understand the presence of the matter in our projects. To relate drawings, physical models and video as a way to produce an architecture project.
METHOD / The students will use the drawing to create matter. We will draw lines and model them to create a space as a matter. Finding opportunities of Multimedia Dawing_Model_Video relationships to start with a project.
Student competition winners projects are included in this section.
Refbacks
There are currently no refbacks.
Copyright (c) 2021 Javier Sánchez Merina, Joaquín Alvado

This work is licensed under a
Creative Commons Attribution 4.0 International License
.