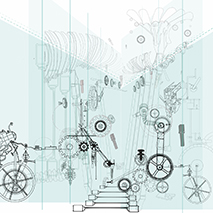 Machinery Landscapes
Abstract
In late 19th and early 20th centuries modernist architects discussed the "machine aesthetic" in which form is to follow function. "This belief in "functional form," in a "machine aesthetic," betrays the extent to which modernism misunderstands its own "aesthetic" uses of technology. Indeed, modernist aesthetics are very often based on "the myth of functional form." Taking technology and mass production as models for art and artistic production does not, after all, make modernist art inherently more functional.
In this workshop held during the second semester of UOU we discussed machine aesthetics through landscape and we designed collective landscape(s) together.
Students contributions:  Anja Bakullari and Pelin Yardımcı, Dorna Farrahi and Beyzanur Meriç, Eslem İnce, İpek Erişen and Joschi Kron, İlir Gökhan and Elora Perez, Mohammad Gerami and Asiye Nurztürk, Nilay Aslan and Niklas Klinck, Thomas Piacenza and Zümra Ocak
Refbacks
There are currently no refbacks.
Copyright (c) 2022 Javier Sánchez Merina

This work is licensed under a
Creative Commons Attribution 4.0 International License
.