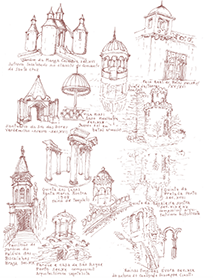 Portuguese Follies since the 15th century till the early 21st century: A drawn writing approach to the concept
Abstract
The Casinhas de Prazer (in a literal translation, "pleasure houses") of the Portuguese city of Funchal, in the Madeira Island, are small architectural spaces always strategically placed in locations where the visual amplitude is significant to enjoy the landscape, overlooking the estate, the street, or the sea.
The practice of these constructions, as fresh resting places, have a long tradition in Portugal and can be seen in various palaces, manor and noble houses across the country. In every century we find examples of these Portuguese follies, although since the introduction of Romanticism in the second half of the 19th century, these constructions have acquired greater relevance, recharacterizing themselves namely as false ruins.
Some examples from the beginning of the 20th century use reinforced concrete and steel, to construct the casinhas de prazer. In Funchal this technology was also incorporated namely by the architect Raúl Chorão Ramalho in the 1950's and more recently, in 2010, this type of follie was reinvented, recovering traditional materials and their heritage relevance in the cultural landscape context.
References
LANGLEY, Batty, LANGLEY, Thomas. Ancient architecture, restored and improved by a great variety of grand and usefull designs, entirely new, in the Gothick mode, for the ornamenting of buildings and gardens: exceeding everything thats extant,: exquisitely engraved on LXIV large quarto copper-plates and printed on superfine royal paper. London: s.n., 1742.
MESTRE, Victor. Arquitectura Popular da Madeira. Lisboa: Argumentum. ISBN 9728479131.
MESTRE, Victor. ALEIXO, Sofia. Lar do Vale Formoso | Vale Formoso Elderly Home. In: NEVES, José Manuel (ed.). Lar do Vale Formoso + Quarteirão histórico de Santa Cruz. Colecção 1+1. Lisboa: Uzina Books, 2012, pp. 4-21. ISBN 978-989-8456-26-7.
Refbacks
There are currently no refbacks.
Copyright (c) 2021 Victor Mestre

This work is licensed under a
Creative Commons Attribution 4.0 International License
.